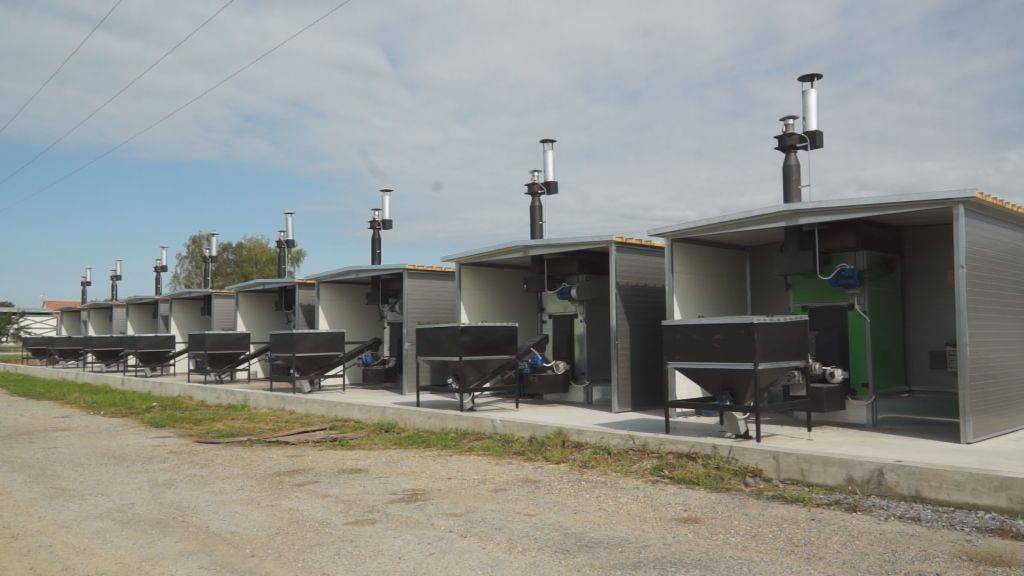 We manufacture dryers for:
Chamomile
Hemp
Herbs
Agricultural products
Olive leaf
Pumpkin seeds
We have:
Floor container dryers
Universal container dryers – portable
Trolley dryers
Dryers for tobacco
Flow dryers
Cylindrical flow dryers
Drying chambers with mobile floor

Floor container dryer
Example of chamomile floor container dryer
Dryer capacity for the layer of 40 cm, the effective surface area:
– for 24 m² is 9,6 m³
– for 32 m² is 12 m³
– for 40 m² is 16 m³
Dimensions of the dryer:
-hight: 2800 mm
-width: 4000 mm
Layout of an effective length:
– 6000 mm for the dryer of 24 m²
– 8000 mm for the dryer of 32 m²
– 10000 mm for the dryer of 40 m²
Universal container drier – portable
Designed for drying of herbs, grains, pumpkin seeds, vegetables, mushrooms etc.
Drier capacity for the layer of 40 cm, effective surface area is 9m³.
Construction of the drier is made of shipping container and the walls and the roof of thermo-insulating panels.
The doors are double/two doors in front and one on the back, for thermal generator
Floor of the drier is made of perforated galvanized sheet metal thickness of 1,2mm and Ø3,2mm perforations, or mobile floor for loading and discharge of processing material.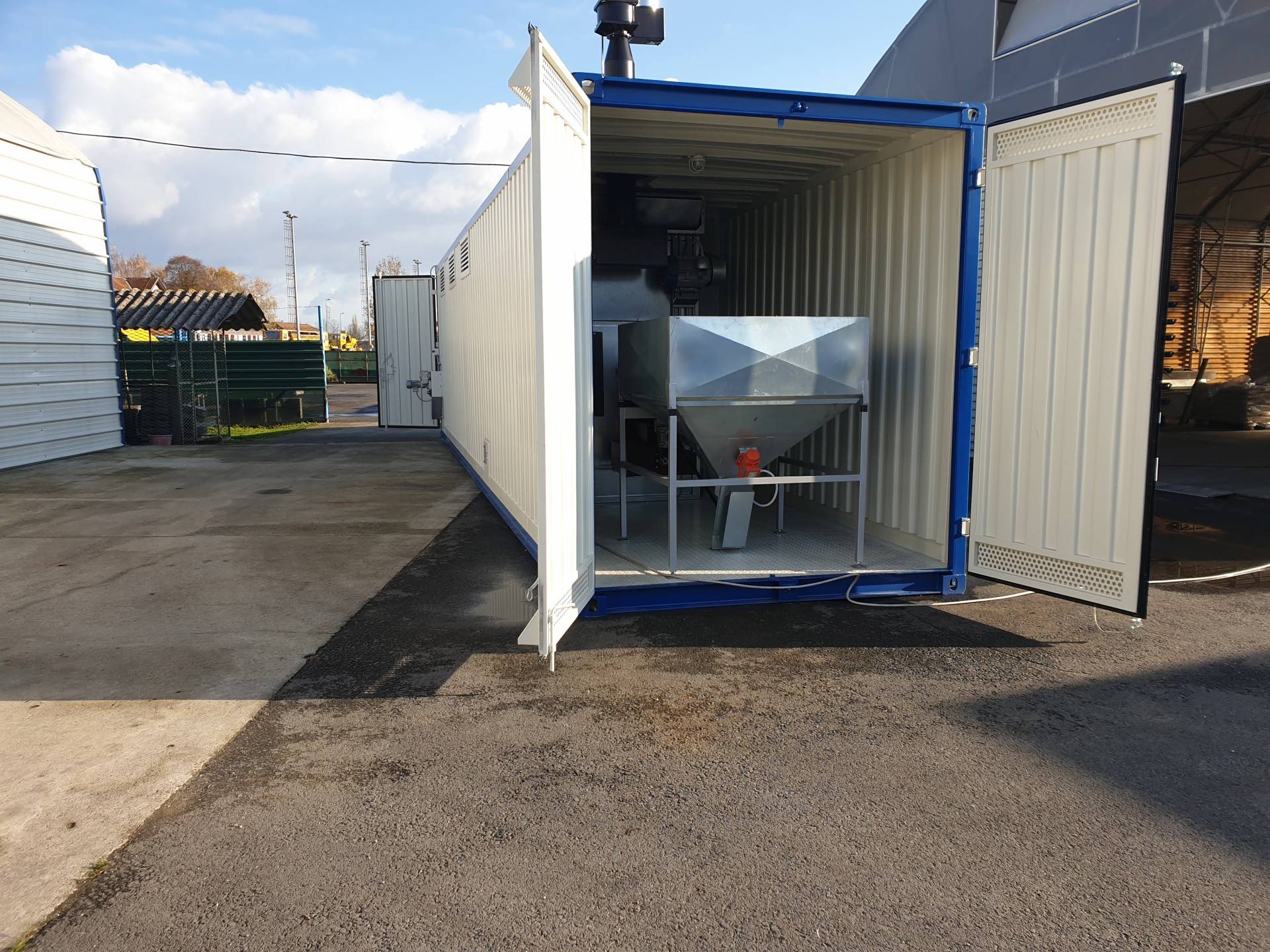 Trolley dryer
Trolley dryer designed for: Drying raw (green) plant material, fruits and vegetables.
Mode: Processing material is dosed in an even layer on the shelves of trolleys which are placed inside the dryer. Heating of the air to the temperature required for the drying is carried out with thermal generator. The heated air is blown into the dryer by fan. Airflow in the dryer is horizontally, between the shelves i.e. between layers of processing material. Moisture saturated air is ejected through outlet flaps or outlet channels and unsaturated outside air is drawn through the flaps or channel for unsaturated air. In order to allow work of automatics and automate the process of drying, in the dryer are located temperature and humidity probes. When the humidity drops to a certain level (according to set parameters on the control cabinet), the valve to discharge moist air closes and drying is carried out in unsaturated air recirculation.
Construction: Profiled INOX AISI 304 sheet metal
Revetment: Thermal isolation panels 50 mm thick
Dryer for tobacco
Dryer type HKSD is designed for drying of tobacco or other crops (corn, wheat, peppers, etc.).
Capacity: 72, 106, 120 or 150 frame dimensions of 400 x 1500 mm, and 700 to 1500 kg of dried tobacco leaf per drying.
Construction of the dryer is made from galvanized steel pipes, and the walls and roof of thermo-insulating panels 50 mm thick with a polyurethane filling. The dryer is easy-mounting.
Floor of the dryer is made of perforated galvanized sheet metal thickness of 1.2 mm.
The doors are double or triple, in the dimensions necessary for the manipulation of standard tobacco frames.
Dryers for tobacco use thermal units whose motor fuel can be gas, oil, biomass, pellet and wood.
If the dryer is located outdoors, it is necessary to make eaves 2 meters long in length of a drier, for protection of the thermal generator from weather conditions.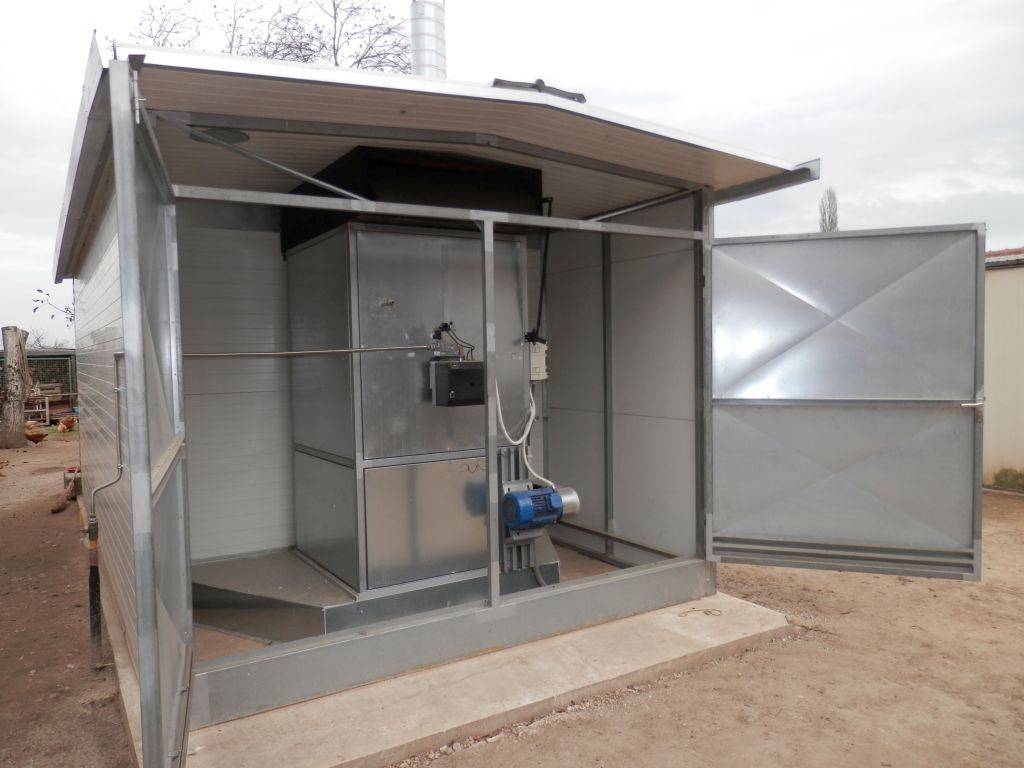 Drying chamber with mobile floor
Designed for drying of herbs (chamomile, mint, melissa, rosehip, etc.), grains (corn, pumpkin seeds, etc.) and vegetables (peppers, etc.).
Processing material places on a floor conveyer which transports material from input to the back wall of dryer. For the purposes of a balanced allocation of processing materials, on the entrance of the dryer is mounted leveler for leveling of a layer height. Height of a layer of processing material can be adjusted according to the requirements of technology. Emptying of the dryer is done by starting work of the conveyer in the opposite direction.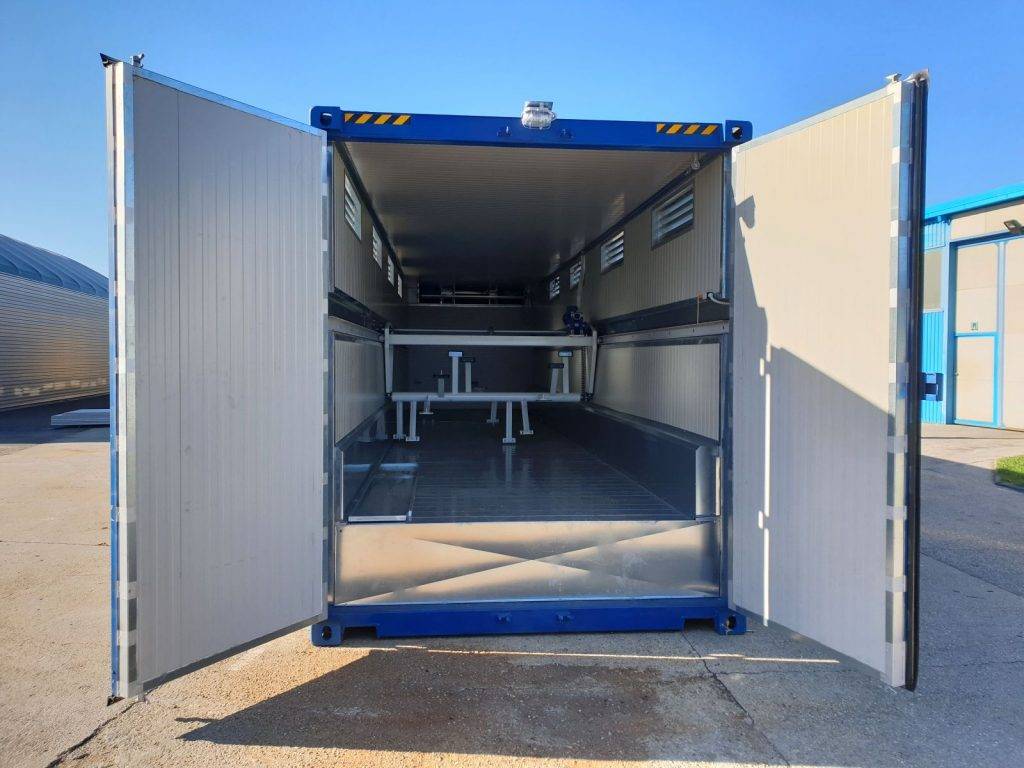 For all inquiries and more info about our machines please contact us by:
Phone: +385 48 816107
Email: herbas@herbas.hr
Our offer: Herbas products