ENGEL Injection moulding machines:
All-electric
Hydraulic
Hybrid
Vertical
Elastomer type
Clamping force overview

All-electric injection moulding machines
Engel e-cap – The all-electric machine for bottle cap production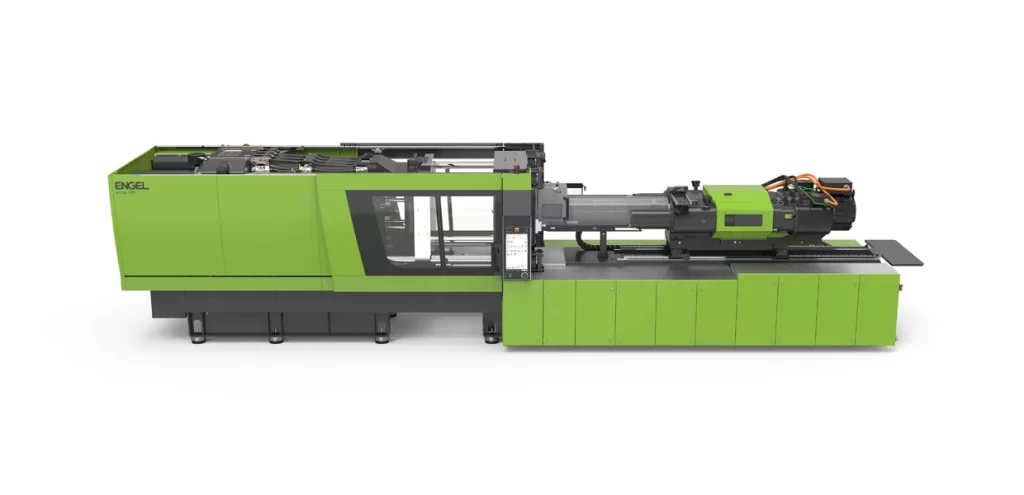 Engel e-cap clamping force from 1.100 kN to 4.200 kN
Based on 10 years of e-cap experience and a consistent focus on the production of beverage caps and closures, we have developed a new generation of the e-cap series. The all-electric machine concept offers a combination of performance, energy efficiency, cleanliness and stability that is unique to the market. In short, the e-cap is the most effective solution for beverage caps and closures production.
Our ENGEL e-cap is perfectly equipped for the challenges in the packaging industry: continuous operation and maximum load! Extremely robust construction, a clean and highly efficient lubrication system, combined with continuous monitoring of the lubrication and motor temperature, ensure best-in-class reliability and trouble-free operation. Additionally, you can use ENGEL e-connect.monitor to monitor process-critical components, such as the screw and spindle, in on-going operation. And ENGEL e-connect.24 gives you support and remote maintenance on top – globally and 24/7.
Engel E-mac – The flexible all-electric machine for standard applications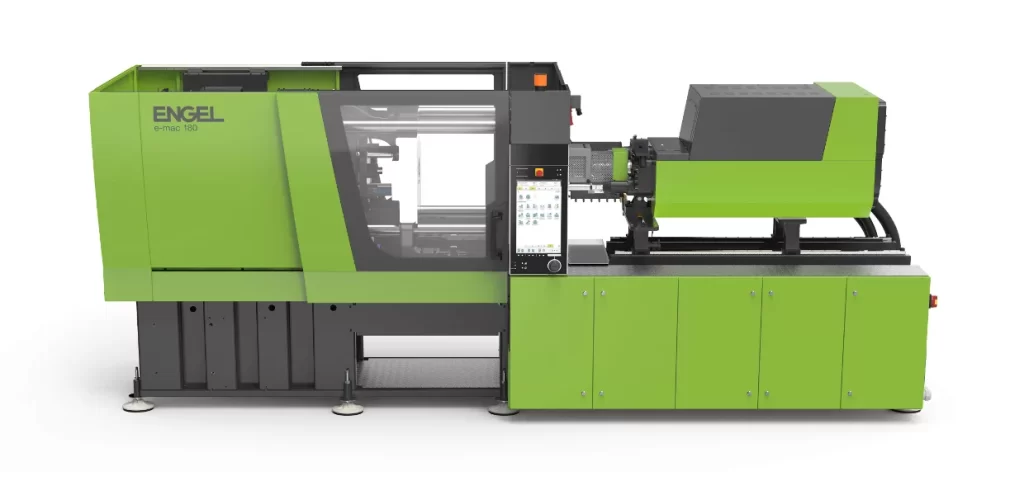 E-mac clamping force from 500 kN to 2.800 kN
The all-electric ENGEL e-mac injection moulding machine offers a great benefit due to very strong performance data while taking up very little room in a production floor. It is fast and extremely cost-efficient in production, due to its low energy consumption. Above all, the investment comes at an incredibly reasonable price.
For a successful introduction into all-electric injection moulding. Offering high output at low investment costs, the ENGEL e-mac is ideal for cost-effective standard applications.
Engel e-motion – The all-electric machine for high-end applications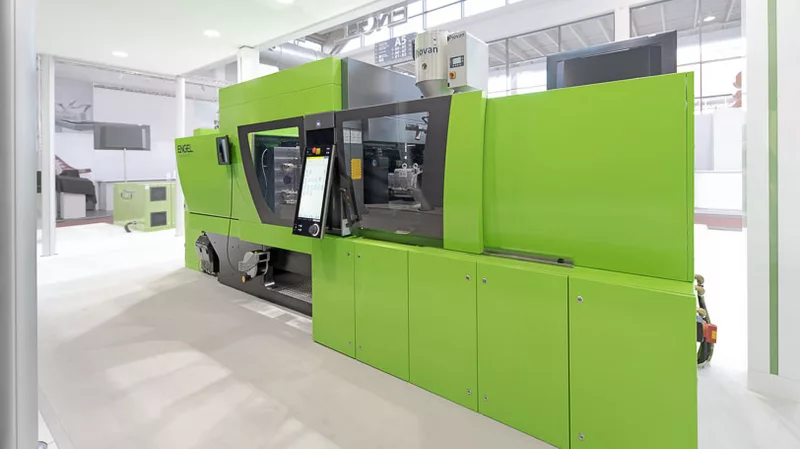 Engel e-motion clamping force 300-6.500 kN
Always faster, always more precise, always cleaner. The ENGEL e-motion is the ideal production unit for the continuously growing demands of a dynamic market. Thanks to a flexible, all-electric, highly efficient machine design that delivers constant and clean quality – best for medical, fast running packaging applications and electric multi-component solutions.
Reliable plastification and injection
No matter which material and which part geometry – the right components for every application
Our high-performance injection moulding machine e-motion is equipped for all possibilities: A wide range of plasticising components paired with three different injection unit designs allow you to perfectly adapt the injection side of your e-motion to your needs – for example, our PREMIUM injection units are specially designed for all high-end applications with extreme flow path/wall thickness ratios. No matter which screw or injection unit you choose – the precision and efficiency of the electric drives is there in every case.
Fully equipped for high-end applications
Maximum versatility and performance also on the clamping side
Just like the injection side, the clamping side of our all-electric injection moulding machine e-motion can also be individually adapted to your needs: for example, you can achieve shortest cycle times of < 2 seconds. In any case, thanks to the encapsulated 5-point toggle, you always have perfect cleanliness in the mould area – no oil mist or dirt can contaminate your parts, perfect for the production of food packaging or medical parts: Our universal machine e-motion is the perfect solution for cleanroom applications! For applications with complex automation or frequent mould changes, we even offer a tie-bar-less version in many clamping force grades with our e-motion TL!
Hydraulic injection moulding machines
Engel victory – the tie-bar-less machine for efficient production of technical mouldings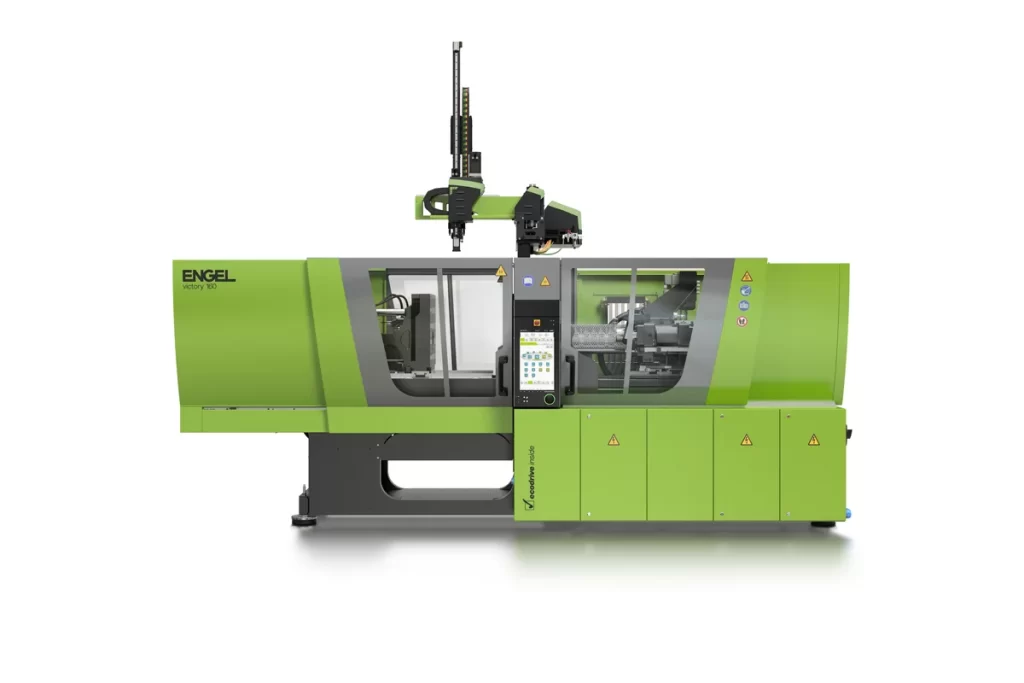 Engel victory – clamping force from 280 kN to 5.000 kN
Flexible, energy-efficient and reliable: The universal ENGEL victory is your perfect modular system for manufacturing a wide range of technical mouldings. With its proven tie-bar-less technology, you can use this relatively small injection moulding machine even for large moulds. This means that you only invest in the clamping force you actually require.
versatile concept – the optimal basic machine for all-round applications and a variety of technologies
low energy consumption – low friction, clamping pressure lock-in & electro-hydraulic control pump, ENGEL ecodrive (optional)
absolute freedom – ENGEL tie-bar-less technology for complex, innovative, mould designs, rapid mould change & unobstructed robot movements
optimal mould protection – patented ENGEL force divider for outstanding platen parallelism and uniform clamping force distribution
Engel duo – the powerful injection moulding machine for large parts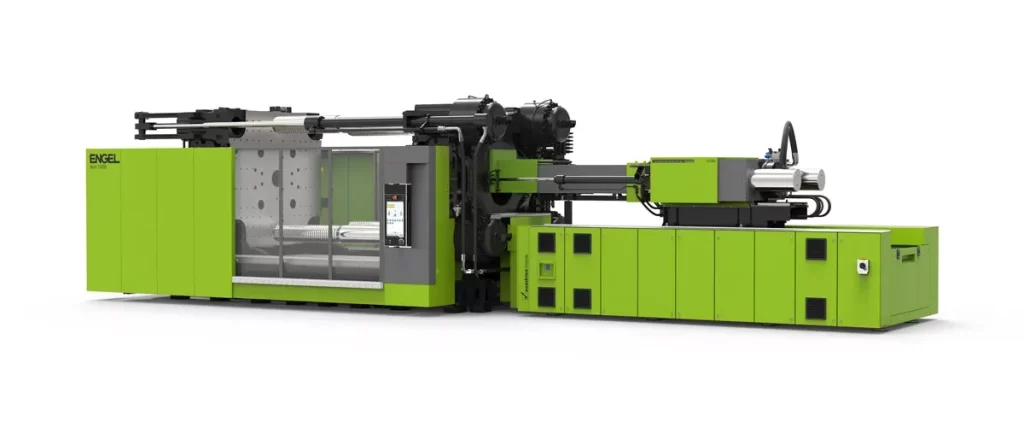 Engel duo – clamping force from 3.500 kN to 55.000 kN
With its flexible layout and compact size, the ENGEL duo integrates ideally with your production. No matter whether you produce large parts, manufacture highly sophisticated components for the automotive industry or absolutely need a perfect surface for your high-tech products.
compact size – injection moulding machine with a small footprint and low height
flexible machine layout – perfectly designed, variable large-scale machine with a standardised modular kit
short cycle times – thanks to optimised movement dynamics and synchronised locking
efficient production – smart energy concept & maximum cost-effectiveness in the production of large-volume and large-scale parts
clean & highly precise linear guidance system
Engel duo speed – fastest dual-platen large machine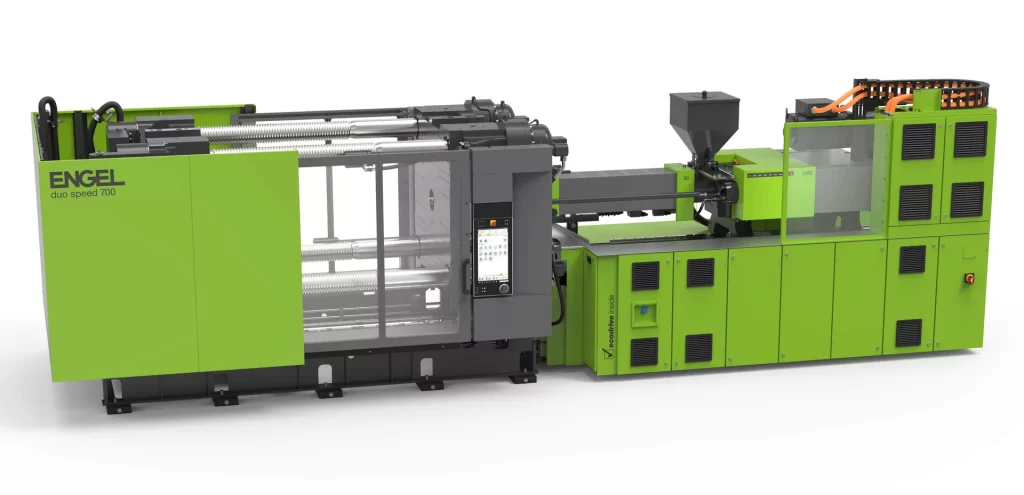 Engel duo speed – clamping force from 5.000 kN to 11.000 kN
The new duo speed for packaging and logistics applications.
Our new powerful ENGEL duo speed sets new standards in terms of speed combined with high precision. This compact and energy-efficient dual-platen injection moulding machine is fully servo-hydraulic with an electric motor-driven screw drive.
High productivity due to reliability and speed
Very short cycle times thanks to a fast clamping mechanism and a perfectly matched plasticising and injection unit. Faster screw speed thanks to power control and improved intake performance with new barrel cooling.
Low operation & maintenance costs
Less heating energy due to optimised heating zones and lower energy loss thanks to our new cooling strategy. Significantly lower water consumption and considerably reduced energy consumption due to high-quality drive components.
Highest possible part quality
Precise clamping force distribution and platen parallelism control guarantee fewer rejects and the highest possible quality. Smart ENGEL iQ assistance systems from the ENGEL inject 4.0 programme additionally ensure excellent process stability.
Compact & modular design
The state-of-the-art design, the dual-platen clamping unit and a very compact injection unit allow for a very small footprint. The barrel can be changed quickly and easily due to the plug-and-play barrel strategy.
Hybrid injection moulding machines
Engel e-victory – the tie-bar-less machine for precision technical mouldings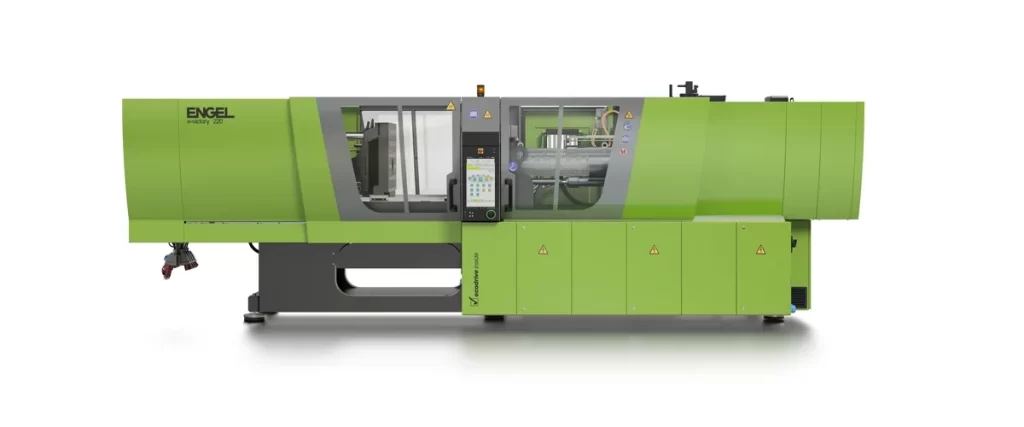 Engel e-victory – clamping force from 280 kN to 4.000 kN
Whether filigree or complex, optical or micro-parts: the ENGEL e-victory injection moulding machine delivers quality that meets the strictest requirements. With its servo-electric injection unit, the tie-bar-less mould area and the low-emission drive technology, the ENGEL e-victory is the smart, clean choice for the production of precision technical mouldings or small medical parts.
perfect precision – tie-bar-less injection moulding machine with a precision, servo-powered, electrical injection unit
flexible use – suitable for moulds with and without core pulls thanks to "on-board" hydraulics
excellent energy efficiency – tie-bar-less machine with a servo-powered, electrical injection unit, clamp pressure lock-in & innovative, quiet ENGEL ecodrive servo-hydraulics
excellent mould protection – ENGEL force divider: perfect platen parallelism & uniform clamping force distribution
more freedom – for complex, innovative, mould designs, rapid mould change & unobstructed robot movements
Engel e-duo – the electric powerhouse for large precision parts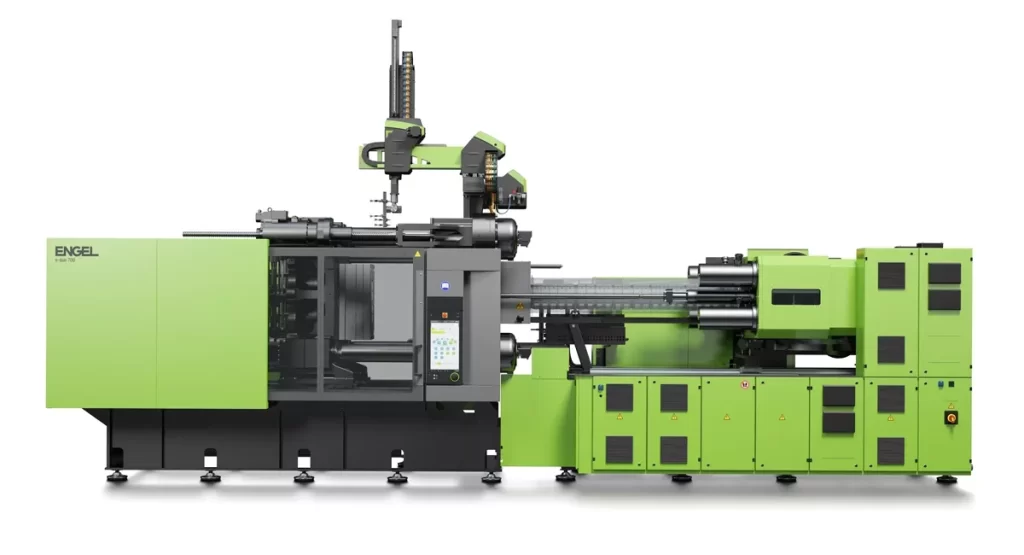 Engel e-duo – clamping force from 4.500 kN to 11.000 kN
When large parts require extreme accuracy: The ENGEL e-duo injection moulding machine combines the power and flexibility of our successful dual-platen, large-scale machine with the special precision and energy efficiency of our proven electric drive technology. In particular, the ENGEL e-duo is ideal for manufacturing parts with long flow paths that perfectly meet your high quality and efficiency standards.
efficient production – space-saving, flexible injection moulding machine with an intelligent, energy-efficient drive concept
high productivity – high injection speed & integrated servo-hydraulic system for parallel operation of the core pulls
precise quality – perfect platen parallelism
Engel e-speed – high-speed machine for thin-wall applications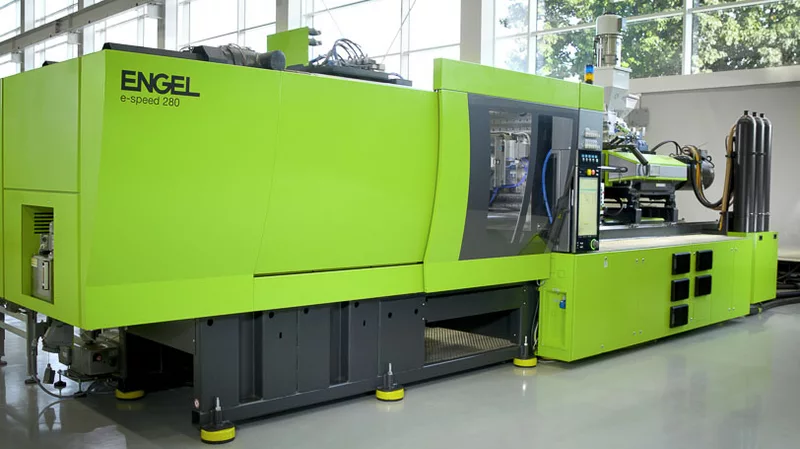 Engel e-speed – clamping force from 3.800 kN to 6.500 kN
Maximum performance for the packaging industry with our e-speed.
Specially designed for thin-wall requirements in the packaging industry
Our special injection units for the e-speed high-speed machine offer you everything you need to run your production – with optimum repeatability and at maximum output. Screws and non return valves specially designed for the plasticising of PP, HDPE and similar materials commonly used in the packaging industry, as well as a high-precision servo-electric drive, enable fast and precise production of a homogeneous melt. Injection, in turn, is carried out hydraulically, fed by large accumulators, with dynamics designed for the short injection strokes customary in the industry: extremely fast acceleration ensures that the maximum injection speed of up to 1,200 mm/s and the maximum injection pressure of well over 2,000 bar are reached even with just a few cm of injection stroke and enables reliable filling of the cavities – even with extreme flow-path-to-wall thickness ratios. Our highly dynamic e-speed powerhouse opens up every opportunity for you in terms of product design.
Vertical injection moulding machines
Engel v-duo – the space saving vertical machine for large lightweight components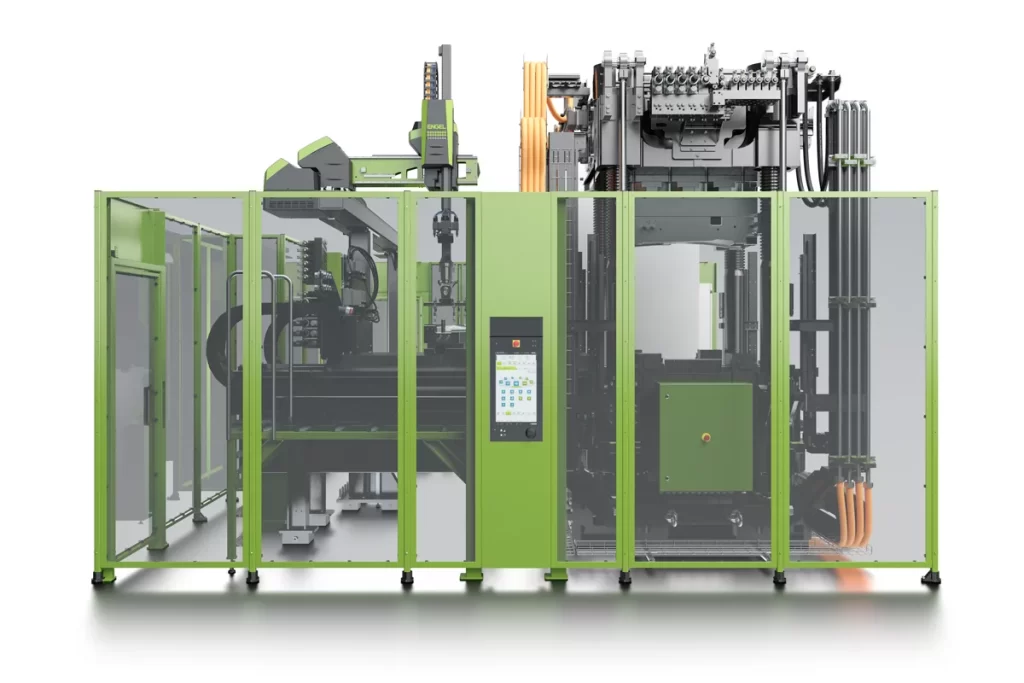 Engel v-duo – clamping force from 4,000 kN to 36,000 kN
The future of the automobile is driven by lightweight design: This is why we developed the ENGEL v-duo. This vertical large-scale machine is a sensitive power package that achieves extremely precise results, especially, in fibre composite applications and processes with high cavity pressure. In addition, it is highlighted by many individual equipment options, excellent energy efficiency and its compact size.
space-saving precision – ideal for inserting prepregs or for the high-pressure RTM process
versatile clamping unit – maximum accessibility & operational safety make the ENGEL v-duo the perfect choice for fully automated production processes
excellent cost-effectiveness – tie-bar guiding, platen parallelism control & ENGEL ecodrive as standards
Engel insert – the vertical injection moulding machine for perfectly overmoulded insert parts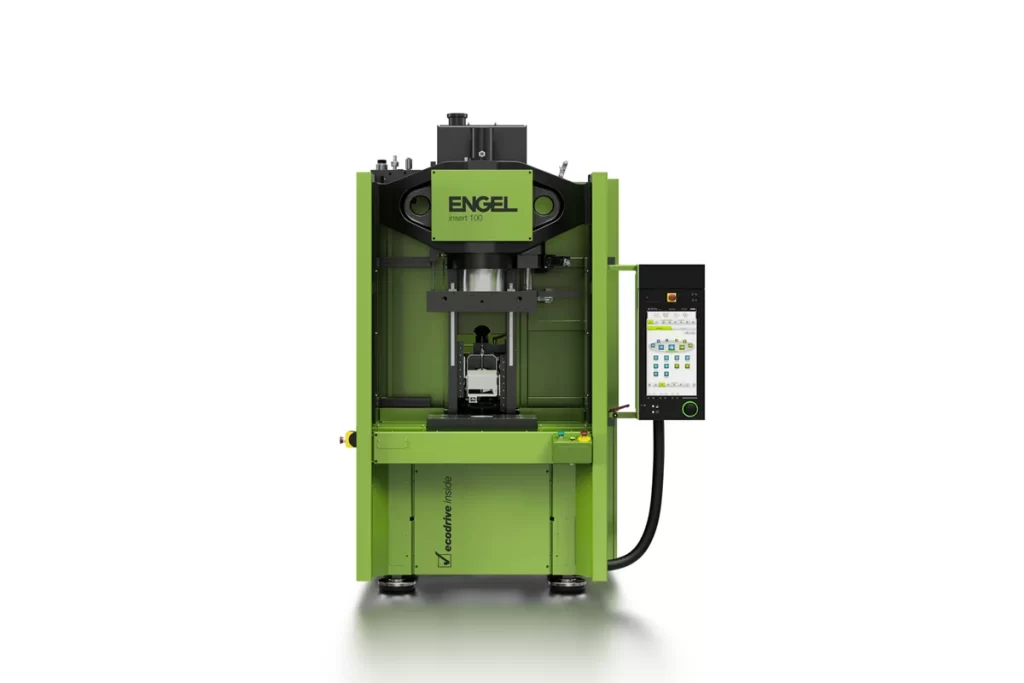 Engel insert – clamping force from 300 kN to 4,000 kN
When it comes to overmoulding inserts, precision is a premium. With its compact, variable machine concept and vertical clamping unit, the ENGEL insert is the ideal solution. To meet every mould requirement, this model range is available with a vertical or a horizontal injection unit. Plus, as the ENGEL e-insert, available with a servo-powered, electric injection unit and featuring the innovative hydraulic ENGEL ecodrive as a standard, it will achieve even more precision.
individual injection moulding machine – available in the single, rotary & shuttle variants, depending on the mould area requirements
minimal footprint – ergonomically optimized working height without operator platform & short design especially with a vertical injection unit
excellent energy-efficiency – low friction, clamping pressure lock-in & electro-hydraulic control pump, ENGEL ecodrive
easy accessibility – efficient protection of the open work area by means of a light curtain
Elastomer injection moulding machines
Engel elast – the elastomer injection moulding machine for special requirements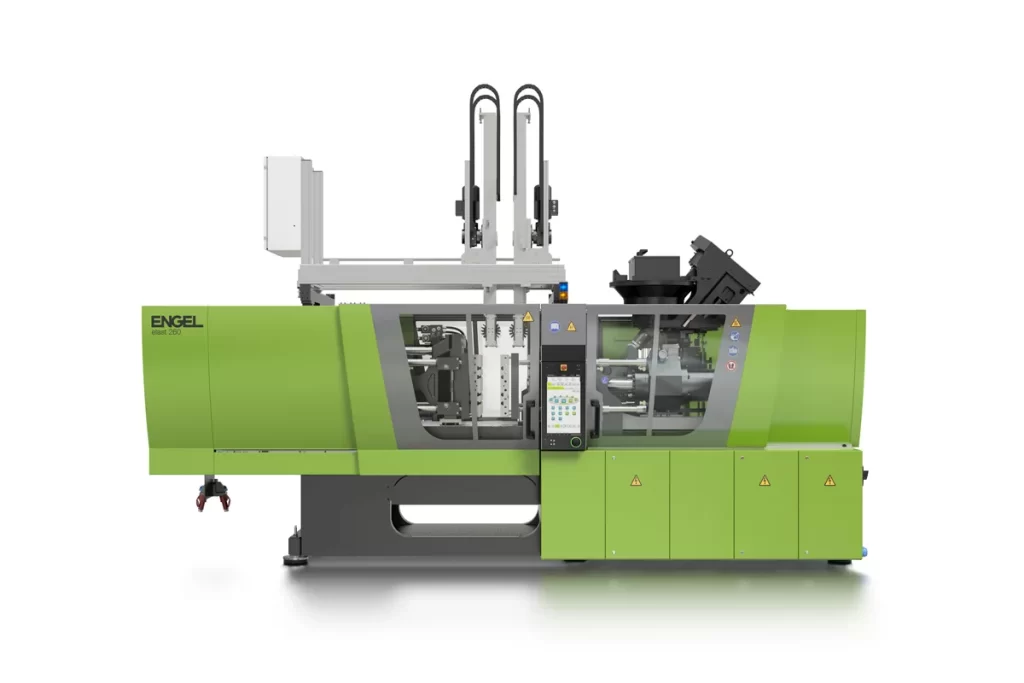 Engel elast – clamping force from 450 kN to 6.000 kN
Whether your elastomer products are designed to seal, dampen or provide protection: the ENGEL elast is the flexible power package for elastomer applications of all types. This complete series of machines and automation solutions is perfectly suited for highly-efficient, process-assured processing of rubber, solid and liquid silicone or thermoplastic elastomers.
homogeneous material preparation – using FIFO or screw units for rubber strips or solid silicone
fastest cycle times – an injection moulding machine with machine movements specially designed for the task
high platen stiffness – for particularly stringent quality requirements in elastomer and silicone part production
Engel flexseal – the compact machine for O-rings and flat seals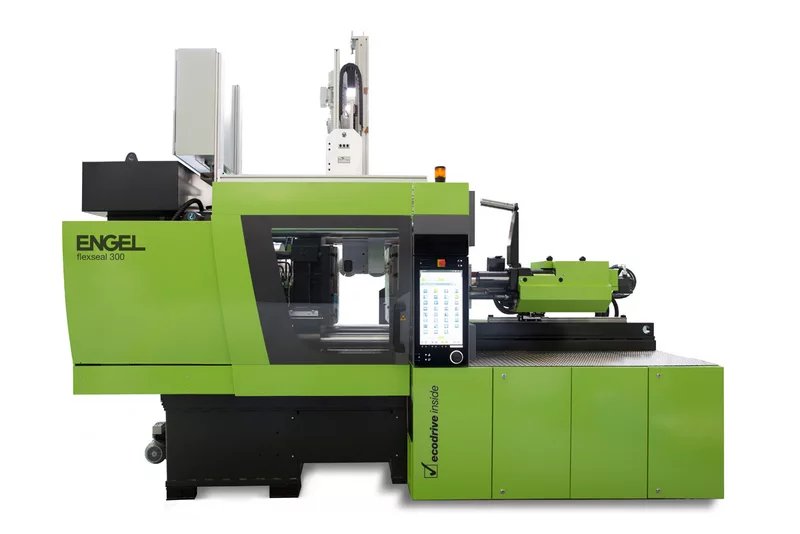 Engel flexseal – clamping force 3.000 kN
For all who desire to produce O-rings and flat seals competitively using very little space: the compact hydraulic ENGEL flexseal machine ensures the efficient processing of all common rubber compounds. The horizontal machine design with screw injection unit ensures very high precision for production with the small and mid-sized shot volumes this requires.
low space requirements – delivers more output on a smaller footprint
open design – excellent accessibility to the strip feeder & injection unit
flexible configurations – injection unit individually selectable & compatible with existing moulds
high precision – excellent results with all common elastomers (rubber, solid silicone, LSR & TPE)
fully automatic production – standardised interfaces for take-out equipment & unobstructed ejection chute
particularly energy efficient – equipped with the hydraulic ENGEL ecodrive as standard
For all inquiries and more info about ENGEL machines please contact us by:
Phone: +43 506 200
Email: sales@engel.at