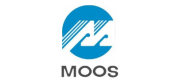 CNC Surface grinding machines series BP are based on many years of experience the company M-MOOS have with the overhauling and modernization of grinding machines for automatic production. They are designed for efficient and precise grinding of flat and contoured surfaces. The overall machine concept follow the company philosophy: To provide modern grinding machines and technologies that will meet the requirements of industrial production in the 21st century.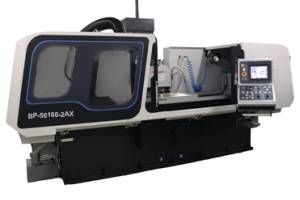 Machines key features
+ Intuitive and simple operation
+ Fast dialog type programming
+ Sophisticated and easy cycles
+ Re-grinding to precise dimensions
+ Solid cast-iron construction machines
+ V-V Guideways guarantee high precision
+ Wide range of standard equipment
+ Comfortable operation and maintenance
Control system X-Solution
This 3rd generation of our own control system comes from the previous systems developed for the purpose of modernization of grinding machines for automatic production. X-Solution means a lot of new options, which is reflected in the standard equipment of whole system. It is based on a touch screen, intuitive interface and dialog type program making with sophisticated grinding cycles for different workpieces.
+ Intuitive and easy operation
+ Reduction of time delays
+ Faster program creation in few steps
+ Possibility to add a new customer´s cycles
+ Reliable system with on-line diagnostic
+ Sophisticated system management
Standard functions
Dialog type program making
10" touch screen
2 base grinding cycles for surface
4 base cycles for grooves grinding
3 cycles for grinding of stairs type workpieces
3 grinding cycles for T – shapes
Rough grinding
Fine grinding
Wheel spark-out
Re-grinding function to final exactly dimension
Cycles for grinding wheel dressing
Automatic compensation after dressing
Tabular visualization during grinding
Displaying of speed, feed rate and cutting speed
Tool table with a direct selection and edit
3 operating modes: Jog, Manual, Auto
2 parent modes: operation and adjustment
Time and Date
Alarms and user reports
Technological information
Optional function
Measuring cycles
Machining time simulation
Robot interface
Maintenance automatic checking
Implementation in to the job management
12″ touch display
Table type CNC surface grinding machines
Model
BP-2550 / BP-3060 / BP-4080
Max. cross x longitudinal travel
350 x 900 mm
Spindle center height from table
600 mm
Grinding surface of table
250 x 500 mm / 300×600 mm / 350×800 mm
Table speed in longitudinal axis
1-25 m/min
Hydraulic motor (2AX only)
1.5 kW
Working feed
1240 mm/min
MPG step feed
0,001/0,005/0,01/0,05 mm
Grinding wheel dimension
355 x 38 x 127 mm
Grinding wheel cover dimension
450 x 155 mm
Max. height from table top
to bottom of standard wheel
422 mm
Spindle motor
3.7 kW
Spindle speed
Stepless speed change 2400 rpm
Machine net weight
3000 kg
Machine gross weight
3600 kg
Column type CNC surface grinding machines
Model
Unit
BP – 50100
BP – 50120
BP – 50150
BP – 60120
BP – 60150
BP – 60220
BP – 60250
Max. cross x
longitudinal travel
(mm)
560 x 1150
560 x 1350
560 x 1650
660 x 1350
660 x 1650
660 x 2350
660 x 2650
Spindle center height from table
(mm)
700
Grinding surface of table
(mm)
500 x 1000
500 x 1200
500 x 1500
600 x 1200
600 x 1500
600 x 2200
600 x 2500
Table speed in longitudinal axis
(m/min)
1-25
Working feed
(mm/min)
1240
MPG step feed
(mm)
0,001/0,005/
0,01/0,05
Grinding wheel dimension
(mm)
standard 355x50x127
Grinding wheel cover dimension
(mm)
Standard
450 x 155
Spindle speed

(rpm)
Stepless speed change 2400
Spindle motor
(kW)
7.5(11)
Hydraulic motor
(kW)
03.07.22
Machine net weight
(kg)
5800
6100
7000
6500
7400
8900
12500
Machine gross weight
(kg)
6900
7500
8500
7900
9000
12000
15600
For all inquiries and more info about our machines please contact us by:
Phone: +420 581 773 251
email: sales@m-moos.cz