CNC Ball joint turning machine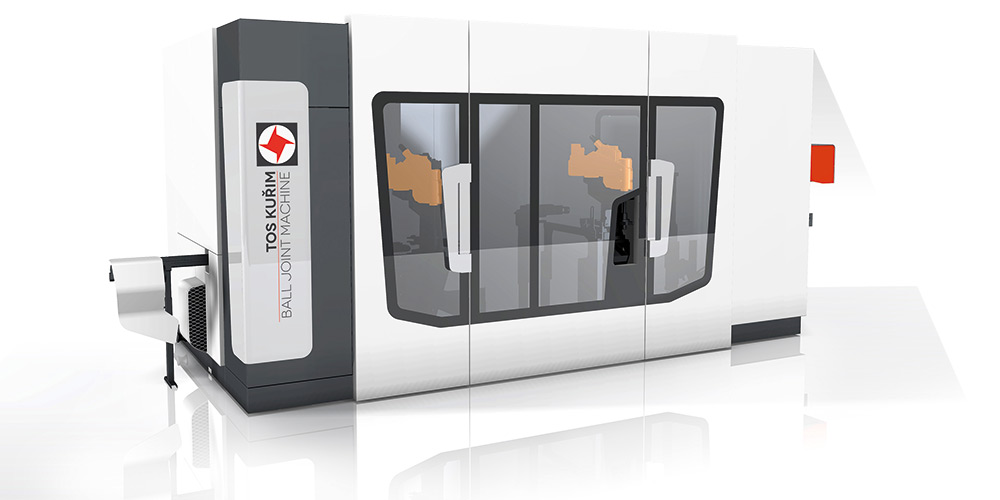 Special purpose machines produced by TOS KUŘIM are designed mainly for the automotive industry. TOS ball turning machines are delivered as part of production lines for the manufacture of ball joints in several dimensions. These lines also feature a system of inter-station transport of workpieces between individual machines, including containers for semi-finished products.
The greatest benefits of TOS ball turning machines are the speed and precision of machining. Another great advantage is their flexibility. The machine as well as the workpiece handling and transport systems can be easily and quickly adjusted for machining another ball joint. This special lathe can also be used for turning other shaft components.
Technical data
Unit
Ball joint machine
Ball joint machine with cross slide
Workpiece diameter
[mm]
ball joint 19 – 40
ball joint 19 – 32
Workpiece material
forging (41Crs4, 42CrMoS4)
forging (30MnVS6; 27MnSiVS6v)
Machining operations
turning and burnishing of ball
turning of neck and ball and burnishing of ball
Machine cycle
[s]
15 – 20
(including handling
in dependence on joint type and size)
16 – 18
(including handling
in dependence on joint type and size)
Production
[pcs]
1350 – 2025 pcs / 7,5 hr
at 90% machine utilization
in dependence on joint type and size
1350 – 1520 pcs / 7,5 hr
at 90% machine utilization
in dependence on joint type and size
Spindle speed
[rpm]
6000
6000
Manipulation
pneumatic manipulator or robot
pneumatic manipulator or robot
For all inquiries and more info about our machines please contact us by:
Phone: +420 541 101 111