AMOB tube end forming machines MB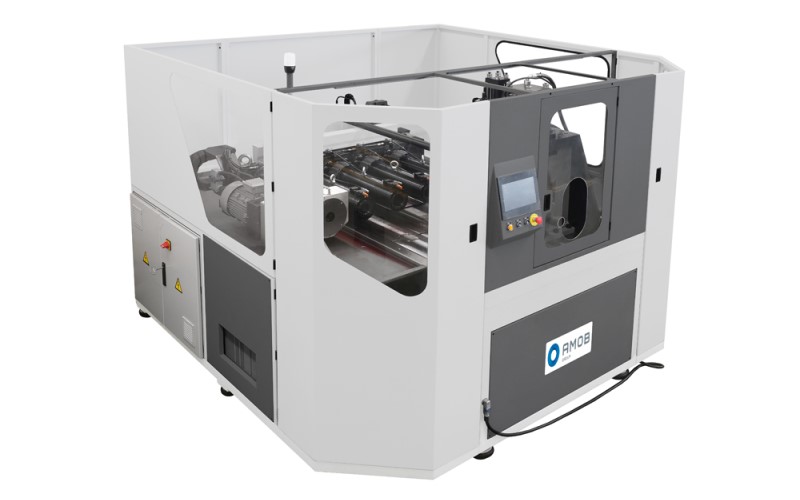 Our end forming machines can manipulate up to 150mm OD tube and cover a wide range of diameters and applications. With
one to three station end forming machines, along with the ability to integrate additional punching stations, AMOB can cater
for any application with our in-house custom design and manufacturing abilities. With a small compact operating area, these
machines can be easily integrated within an automatic production cell. These fully hydraulic machines enable consistency,
reliability and fast production cycle times, and can be easily attached to a wide range of systems.
Technical data MB
| | | | | | | | |
| --- | --- | --- | --- | --- | --- | --- | --- |
| Machine model | Unit | MB30 | MB60 | MB100 | MB150 | MB200 | MB250 |
| Maximum capacity | mm | Ø30×3 | Ø60×4 | Ø100×5 | Ø150×6 | Ø200×6 | Ø250×6 |
| Forming stroke (max) | mm | 168 | 170 | 215 | 240 | 240 | 250 |
| Forming stations | nr | up to 3 | up to 3 | up to 3 | up to 3 | up to 3 | up to 3 |
| Working pressure | bar | 165 | 180 | 180 | 200 | 200 | 200 |
| Installed power | kW | 4 | 7.5 | 7.5 | 11 | 22 | 30 |
For all inquiries and more info about AMOB machines please contact us by:
Phone: (+351) 252 330 900
email: sales@amob.pt