Metal powder SLM 3D printers
Production range: 4 machine models Enavision 100, 120, 250, 400
Production Volume: Ø100×100 mm, Ø130×130 mm, 250x250x300 mm, 400x400x300 mm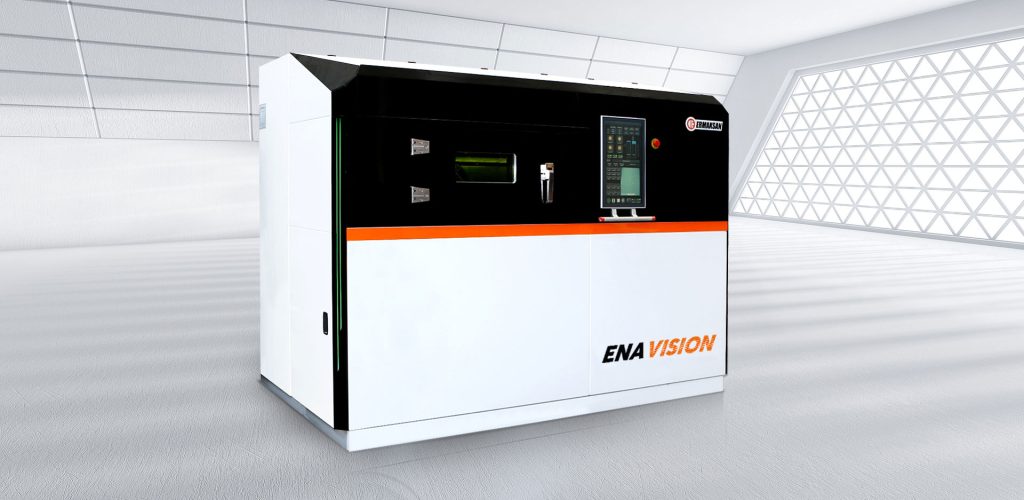 Machine features
Produce Complex Multi-Process Parts in Single Operation.
Ermaksan Additive offers ENAVISION 250 to overcome complex difficulties in the industrial field and to make easy production of complex geometries. With its open-access architecture, it allows the use of different types of powder in various sectors.
ENAVISION 250; It has a production volume of 250 mm x 250 mm x 300 mm. Offering flexibility and unlimited freedom to users with its open parameter structure, this model is equipped with a single and dual laser versions to meet different customer demands.
ENAVISION series additive manufacturing products are additive manufacturing technologies using the powder bed fusion (DMLS / SLM) Selective Laser Melting method. In this technology, ENAVISION starts by deposing the metal powder at the desired layer height on the build plate properly and then completely melts the metal powder in the required areas in the part model to be produced by a high power laser. The processes in one layer are performed repeatedly in each layer until the production is completed.
Parts manufactured by laser melting, can be produced with a density of over 99% in standard parts and good mechanical properties. The produced parts can be used as final products by performing secondary processes such as heat treatment, sandblasting, drilling, threading and machining.
Technical data
| GENERAL SPECIFICATION | ENAVISION 100 | ENAVISION 120 | ENAVISION 250 | ENAVISION 400 P |
| --- | --- | --- | --- | --- |
| Production Volume (mm3) | Ø100×100 | Ø130×130 | 250x250x300 (9,8×9,8×11,8 inch) | 400x400x300 (15,7×15,7×11,8 inch) |
| Adjustable Layer Height | 20-100 μm | Adjustable Layer Height20-100 μm | Adjustable Layer Height20-100 μm (0,0007-0,004 inch) | Adjustable Layer Height20-100 μm (0,0007-0,004 inch) |
| Laser Type | Fiber Laser | Fiber Laser | Fiber Laser | Fiber Laser |
| Laser Power | 150W (300W Option) | 300W (500W Optional) | 500W (1 kW Optional) | 2 x 500W* |
| Scanning Speed | 11 m/s | Up to 11 m/s (433,07 inch) | Up to 11 m/s (433,07 inch) | Up to 11 m/s (433,07 inch) |
| Scanning System | Hight Speed Scan Head F-Theta Lens | Hight Speed Scan Head F-Theta Lens | 3D Dynamic Focused Scanning System | 1 Set |
| Dimension (LxWxH) | 1200x900x1980 | 1200x900x1980 (47,25×148,15×79,9 inch) | 2700x1440x2030 (106,3×56,7×79,9 inch) | 3200x1500x2030 (125,9×64,57×79,9 inch) |
| Electrical Connection (Voltage) | 230 V, 1 PH, 50/60 Hz | 230 V, 1 PH, 50/60 Hz | 400 V, 3 PH, 50/60 Hz | 400 V, 3 PH, 50/60 Hz |
| Electrical Connection (Current) | 16 A | 25 A | 32 A | 40 A |
| Inert Gas | Argon / Azot | Argon / Nitrogen | Argon / Nitrogen | Argon / Nitrogen |
| 02 Level | 100 ppm | 100 ppm | 100 ppm | 100 ppm |
| Vacuum Pump | Yes | Yes | Yes | Yes |
| Operating System | Windows 10 / X | Windows 10 / X | Windows 10 / X | Windows 10 / X |
| Network | Ethernet / Ethercat | Ethernet / Ethercat | Ethernet / Ethercat | Ethernet / Ethercat |
| Building Platform | Preheat | Preheat | Preheat up to 200°C | Preheat up to 200°C |
| CONTROL UNIT | | | | |
| Control System | Beckhoff Industrial PC | Beckhoff Industrial PC | Beckhoff Industrial PC | Beckhoff Industrial PC |
| Processor | Intel i5-i7 | Intel i5-i7 | Intel i5-i7 | Intel i5-i7 |
| Operating System | Windows 10 / X | Windows 10 / X | Windows 10 / X | Windows 10 / X |
| HMI | 15,6 inch, Touch Operated | 15,6 inch, Touch Operated | 15,6 inch, Touch Operated | 21,5 inch, Touch Operated |
| SOFTWARE | | | | |
| Data Preparation Software | Materilliase Magics and Modules | Materilliase Magics and Modules | Materilliase Magics and Modules | Materilliase Magics and Modules |
| Data Processing Software | Magics Print for Enavision | Ermaksan Build Processor | Ermaksan Build Processor | Ermaksan Build Processor |
| Supported File Types | STL | STL, 3MF, AMF, DAE, FBX, VRML… | STL, 3MF, AMF, DAE, FBX, VRML… | STL, 3MF, AMF, DAE, FBX, VRML… |
Product video
Product inquiry contact
Complete product portfolio: Ermaksan