Punch press series Servo-Electric ETP-S and Hydraulic ETP punching system
Working dimensions: 1500 x 2000 mm up to 1500 x 3000 mm
Punching capacity: 20 and 30 tons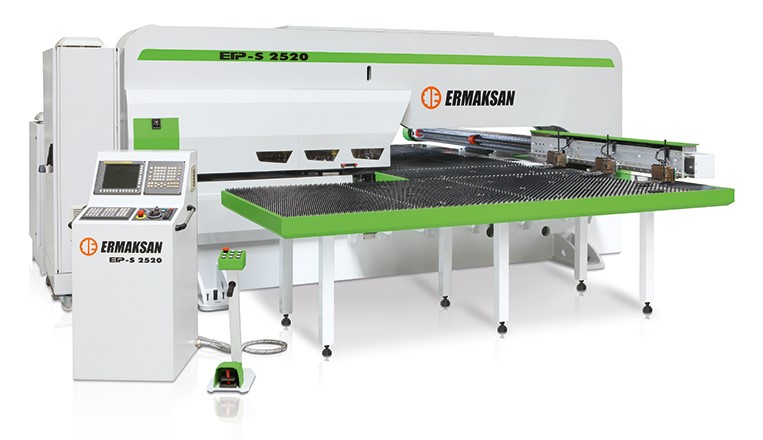 Machine features
• 20 tons and 30 tons power options
• Processing capacity up to 6 mm thick sheet metal
• Turret structure with housing
• Table options with different dimensions
• Ø88.9 maximum punching capacity
• Thick turret and index turret structure
• 27 station and 33 station options
• 3 automatic repositioning
sheet metal holding clamps
• O type mono-block rigid body structure
• Tool lubricating system
• Aluminium body axis structure
• Sheet metal loading system
• embedded into brush table
• Water cooled hammer system for Servo-Electric ETP-S series
Servo-Electric Punch System Specifications
Servo Motor + Crank System
• Maintenance-free oil-free, long service life
• Low energy consumption, minimum 40% power saving
• Problem-free long service life with less mechanical parts thanks to its unique design
• Speeds and low, medium, top punching positions can be programmed as
• All positioning actions are more precise since Servo-Electric hammer system is driven with servo motor
• Provides always maximum torque even at high and low speeds tools
• Motor integrated thermal protection and water cooling system
• Environment friendly because no oil is used
• 2 model with 20 or 30 tons punching power
• IP65 protection grade
Technical data ETP-S
Units
ETP-S 1500×3000
ETP-S 1500×2500
ETP-S 1500×2500
ETP-S 1500×2000
MAXIMUM TONNAGE
Ton (Us Tons)
30 (33)
30 (33)
20 (22)
20 (22)
MAXIMUM CAPACITY (X, Y)
mm (inch)
3000×1500 (118,1×59)
2500 ×1500 (98,4×59)
2500×1500 (98,4×59)
2000×1500 (78,7×59,1)
STATION QTY ON TURRET
Pieces
33
33
33
27
MAXIMUM PUNCH DIAMETER 
(Sheet 1 mm (0,04″) thickness) (Single tool)
mm (inch)
Ø88,9 (3,5)
Ø88,9 (3,5)
Ø88,9 (3,5)
Ø88,9 (3,5)
X AXIS TRAVEL
mm (inch)
3000 + R (118,0 + R)
2500 + R (98,4 + R)
2500 + R (98,4 + R)
2000 + R (78,7 + R)
X AXIS SPEED
m/sec (inch/sec)
80 (3,14)
80 (3,14)
80 (3,14)
120 (4,72)
Y AXIS TRAVEL
m (inch)
1500 (59,0)
1500 (59,0)
1500 (59,0)
1500 (59,1)
Y AXIS SPEED
m/sec (inch/sec)
80 (3,14)
80 (3,14)
80 (3,14)
120 (4,72)
X + Y DEPENDENT SPEED
m/sec (inch/sec)
114 (44,8)
114 (44,8)
114 (44,8)
170 (66,4)
TURRET ROTATION SPEED
Rpm
20
20
20
27
AUTO INDEX ROTATION SPEED
Rpm
65
65
65
65
MAXIMUM PUNCH STROKE For Marking 1 mm (0,04″) Stroke
Stroke/min
2000
1200
1200
1500
MAXIMUM PUNCH STROKE For 1 mm step on X&Y directions
Stroke/min
900
900
900
900
MAXIMUM PUNCH STROKE For 25 mm step on X&Y directions
Stroke/min
600
600
600
350
MAX. CUTTING THICKNESS WITH FIX STATION
Mild Steel
6,35 mm (0,25 inch)
6,35 mm (0,25 inch)
6,35 mm (0,25 inch)
6,35 mm (0,25 inch)
Stainless steel
3 mm (0,11 inch)
3 mm (0,11 inch)
3 mm (0,11 inch)
3 mm (0,11 inch)
MAX. CUTTING THICKNESS WITH AUTO INDEX STATION
Mild Steel
4 mm (0,15 inch)
4 mm (0,15 inch)
4 mm (0,15 inch)
4 mm (0,15 inch)
Stainless steel
2,5 mm (0,1 inch)
2,5 mm (0,1 inch)
2,5 mm (0,1 inch)
2,5 mm (0,1 inch)
REPITITION ACCURACY
mm (inch)
± 0.05 (± 0.0019)
± 0.05 (± 0.0019)
± 0.05 (± 0.0019)
± 0.05 (± 0.0019)
POSITIONING ACCURACY
mm (inch)
± 0,1 (± 0.0039)
± 0,1 (± 0.0039)
± 0,1 (± 0.0039)
± 0,1 (± 0.0039)
INDEX POSITIONING ACCURACY
°
0.01°
0.01°
0.01°
0.01°
MULTI TOOL CHANGE TIME
Sec.
3
3
3
3
MAXIMUM LOAD CAPACITY
Kg (lbs)
225 (496,04)
200 (441,0)
200 (441,0)
125 (275,6)
AIR PRESSURE
Bar (Psi)
6 – 7 (87 – 101,5)
6 – 7 (87 – 101,5)
6 – 7 (87 – 101,5)
6 – 7 (87 – 101,5)
MAXIMUM STROKE
mm (inch)
32 (1,26)
32 (1,26)
32 (1,26)
32 (1,26)
SHEET CLAMPING (AUTOMATIC REPOSITIONING)
Pieces
4
3
3
3
SHEET CLAMPING FORCE
Kg (lbs)
1200 (2646)
1200 (2646)
1200 (2646)
1200 (2646)
POWER SUPPLY
kW (HP)
60 (80,5)
60 (80,5)
40 (53,6)
40 (53,6)
AIR SUPPLY
Liters/min (Us Gallons/min)
2,5 (0,66)
2,5 (0,66)
2,5 (0,66)
2,5 (0,66)
LINEAR AXES
X,Y
Y1 + Y2 axis of the Ballscrew Direct Drive Fanuc Servo Motor X Axis of a rack and pinion + Reducer Fanuc Servo Motor
All axes absolute Ballscrew with Fanuc Servo Motor
All axes absolute Ballscrew with Fanuc Servo Motor
All axes absolute Ballscrew with Fanuc Servo Motor
INDEX AXES
Absolute with Fanuc Servo Motor+Harmonic drive reducer
Absolute with Fanuc Servo Motor+Harmonic drive reducer
Absolute with Fanuc Servo Motor+Harmonic drive reducer
Absolute with Fanuc Servo Motor+Harmonic drive reducer
WORKING HEIGHT
mm (inch)
950 (37,1)
950 (37,1)
950 (37,1)
950 (37,1)
TABLE TYPE
BRUSHED
BRUSHED
BRUSHED
BRUSHED
BRUSHED+BALL
BRUSHED+BALL
BRUSHED+BALL
BRUSHED+BALL
BALL
BALL
BALL
BALL
MACHINE LENGTH
mm (inch)
5520 (217,3)
5520 (217,3)
5520 (217,3)
5520 (217,3)
MACHINE WIDTH
mm (inch)
6660 (262,2)
5000 (196,8)
5000 (196,8)
4290 (168,9)
MACHINE HEIGHT
mm (inch)
2220 (87,4)
2220 (87,4)
2220 (87,4)
2220 (87,4)
WEIGHT
Kg (lbs)
22000 (44092)
18500 (40792)
18500 (40792)
16000 (35270)
| | | |
| --- | --- | --- |
| TURRET (33 STATION) | | TURRET (27 STATION) |
| 15 Pieces A station 1/2'' Fix 1,6-12,7 mm Diameter | | 11 Pieces A station 1/2'' Fix 1,6-12,7 mm Diameter |
| 12 Pieces B station 1-1/4'' Fix 12,8-31,7 mm Diameter | | 10 Pieces B station 1-1/4'' Fix 12,8-31,7 mm Diameter |
| 2 Pieces C station 2'' Fix 31,8-50,8 mm Diameter | | 1 Pieces C station 2'' Fix 31,8-50,8 mm Diameter |
| 1 Pieces D station 3-1/2'' Fix 50,9-88,9 mm Diameter | | 2 Pieces D station 3-1/2'' Fix 50,9-88,9 mm Diameter |
| 3 Pieces D station 3-1/2'' Index 50,9-88,9 mm Diameter | | 2 Pieces B station 1-1/4'' Index 12,8-31,7 mm Diameter |
| | | 1 Pieces C station 2" Index 31,8-50,8 mm Diameter |
CONTROLLER (ERMAKSAN HMI SOFTWARE)
GE Fanuc 31i-PB – Part Program Memory, 256 KB
Memory C, FROM / SRAM, 16 MB / 2 MB
CPU CARD, PENTIUM, DRAM 16 MB
Inch/Metric Conversion – Workpiece Coordinate System
Reader/Puncher Interface 1 – External Message
Cutter Compensation C – Part Program Memory, 256 KB
Registered Programs, 125
Extended Part Program Editing
Run Hour & Parts Count Display – Graphic Display
Multi-Piece Machining – Multiple Tool Control
Safety Zone Check – Clamp Zone Avoidance Function
Safety Zone Area Expansion

CAD/CAM software: Lantek or Metalix
STANDARD EQUIPMENT
Ermaksan Direct Drive servo punch system
Fanuc CNC and high precision absolute encoder, dynamic, brushless alfa series servo motors
3 automatic repositioning clamps and loading switches.
Ermaksan HMI and software
Aluminum workholder
Tool lubricating system (Airblow).
Free standing control panel.
Control with foot pedal.
Tools stuck safety system
1 software (Lantek or Metalix).
27 or 33 turret stations
Digital oil temperature indicator.
Software for using wheel and forming tools.
Sheet jumping switches
Scrap box.
Chain protection around the machine (safety system).
OPTIONAL EQUIPMENTS
Notching and forming tools for various dimensions and forms.
Light barrier (for CE standard machines).
Additional sheet holding clamps.
Multi tools of 3,6,8 stations.
Adaptors for various stations (B, C, D).
Special coated tools for notching stainless materials (TIN, TICN, TICN Plus, MOVIC).
Work chute.
Stainless steel table with ball bearing support
Product inquiry contact
Complete product portfolio: Ermaksan