Punch presses for sheet metal sizes 1250 x 4000 mm and 1250 x 5000 mm
X-axis 2000mm +Repositioning , 2500mm + Repositioning
Y-axis 1250mm
capacity 30 tons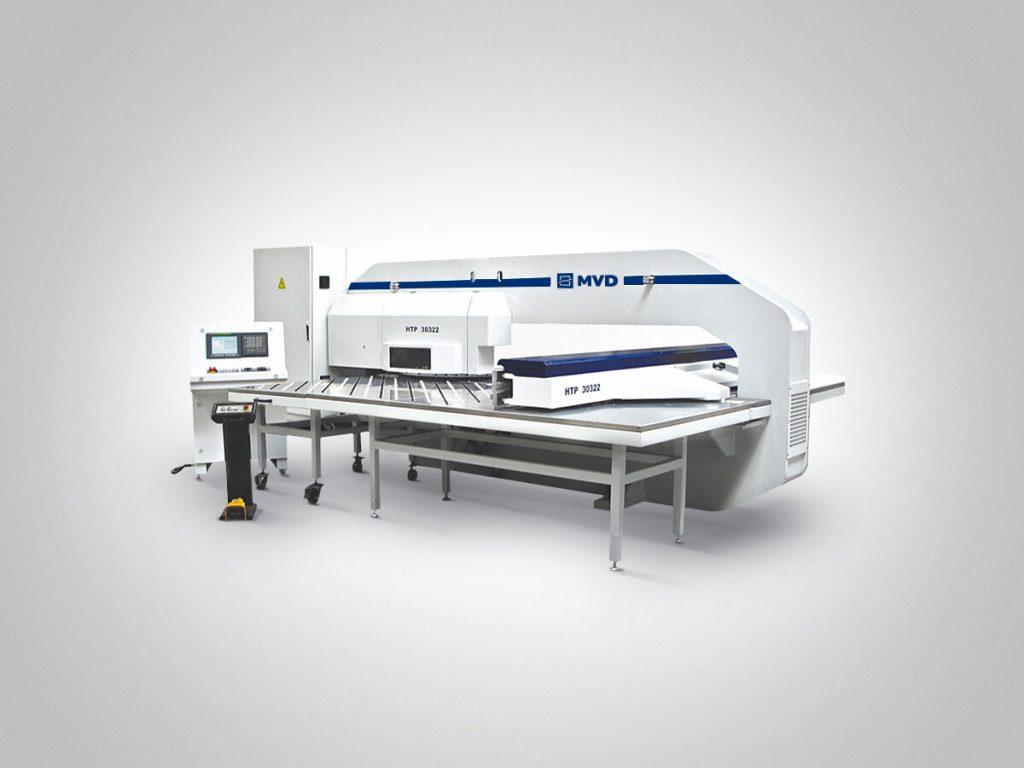 General Features
Operating System is CNC and hydraulic.
MVD Turret Punch 4 axes controlling; X, Y axes for movement of sheet,
T axes: Turret rotation, C axis: Auto-index station rotation for indexing tools.
32 station Turret as to allow punching complicated, multi and different size holes parts in a single operation.
Auto–index stations can punch to required angle for various angle shape parts with CNC controller.
MVD special narrow bottom table.
Precision forming and roller tools can be use on the Turret, therefore HTP Turret punch provides.

Punch Technology
Special Tool drawing
Auto-index functions
Auto clamp positioning
Automatic Sheet Repositioning
CNC CAD provides automatic or manual nesting for effective use of sheet metal
Roller Tools usable
Common cut function
Ribbon cutting for splitting sheet
Auto index reducing cycle time functions with rotations to nearest position
Tools punch sequence selection
Standard Equipments
4 Axes CNC System
FANUC PC CNC unit, servo motors and drivers
Rexroth and HL hydraulic unit
32 Stations Turret – 10 A Stations, 16 B Stations, 2 C Stations 4 D Station (2 of them Auto Index)
Repositioning of Clamps
Automatic reference
CAD/CAM program
Automatic Clamping
Optional equipment
Tool Adaptors
Extra D index station
Thin & Thick Turret Tools
Punch press Technical data
iPunch SERIES
30322-600
30322-900
Press Capacity
30
30
ton
Max. Sheet Dimensions, Table Size
1250 x 4000
1250 x 5000
mm
X Axis Stroke
2000+Reposition
2500+Reposition
mm
Y Axis Stroke
1250
1250
mm
Maximum Sheet Thickness (Mildsteel)
6,0
6,0
mm
Maximum Sheet Weight
160,0
160,0
kg
Biggest Tool Hole Diameter
88,9
88,9
mm
Turret Options
32
32
Station
Turret Stations Feature
10 A Stations øMax:12,7mm
16 B Stations øMax:31,7mm
2 C Stations øMax:50,8 mm
4 D Stations øMax:88,9mm
10 A Stations øMax:12,7mm
16 B Stations øMax:31,7mm
2 C Stations øMax:50,8mm
4 D Stations øMax:88,9mm
Station
Auto index
2 D Stations (4 D Optional)
2 D Stations (4 D Optional)
Station
Table
Brush and Roller
Brush and Roller
type
Positioning Accuracy
± 0,1
± 0,1
mm
Hits Per Minute
600
900
hpm
X, Y Axial Speeds
70
70
m/min
X,Y Axial Vectorel Speed
100
100
m/min
Manual Clamp Quantity
3 Manual
(Auto Clamp Optional)
3 Manual
(Auto Clamp Optional)
quantity
Turret Rotations Per Minute
30
30
rpm
Tool Change Time
2,5
2,5
sec
Number of Axis
4
Lor4
pcs
Control Unit
FANUC
FANUC
type
CAD/CAM
Metalix
Metalix
type
Oil Tank
200
200
lt
Main Motor
11
11
kW
Air Pressure
0,85
0,85
Mpa
Overall Dimensions (L x W x H)
5500x4500x2100
5500x4500x2100
mm
Approx. Weight
15.000
15.000
kg
For all inquiries and more info about our machines please contact us by:
Phone: +90 332 239 22 33
e-mail: info@mvd.com.tr