Products
About exeron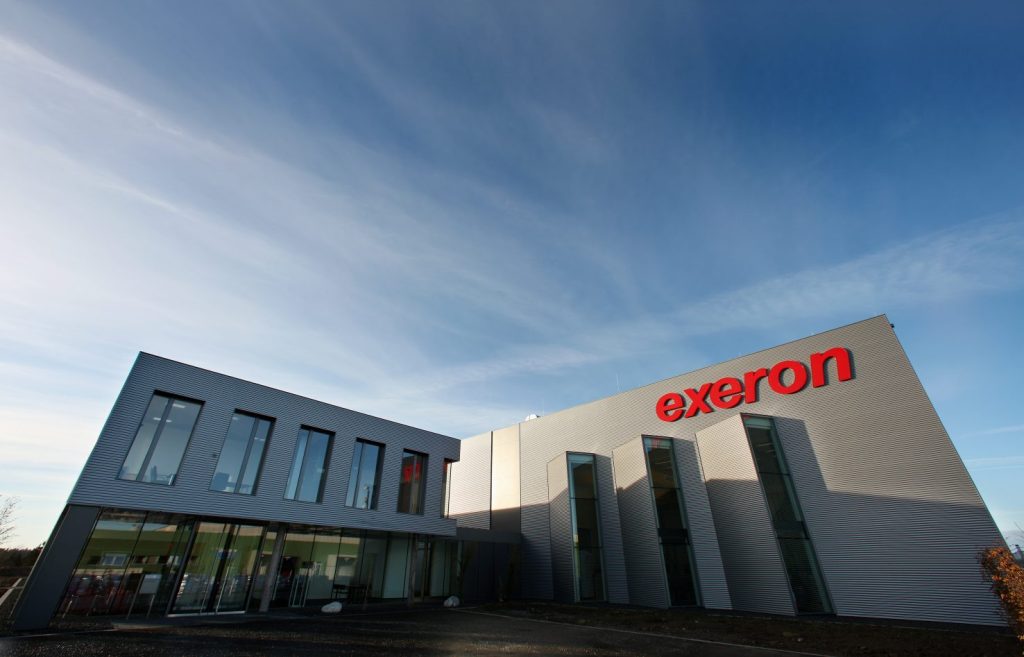 Our mission:
exeron sees itself as a manufacturer of solid, reliable and durable eroding machines (EDM) and high-speed milling machines (HSC) as well as handling systems "Made in Germany". The manufacturer of machine tools combines this competence to ensure sustainable success for its customers.
exeron has a stable and reliable shareholder structure, value-orientated management and stands for professionalism, quality, customer orientation, flexibility and service competence.
40 years of com­pe­tence in pro­duc­tion and de­vel­op­ment.
Formed by the merger of Herbert Walter GmbH in Fluorn and Deckel-Multiform Erodiertechnik in Wolfratshausen, exeron GmbH draws on the invaluable know-how and expertise in mechanical engineering acquired over 40 years in all fields of spark erosion. exeron thus stands for absolute high-tech EDM solutions made in Germany. Today and in the future.
Through the acquisition of Digma in 2005, we were able to further enhance our expertise in high-speed milling and gained a complete range of HSC machining centres. Eroding and milling – under the slogan "Better both – Both better", we are ideally positioned for our customers. The exeron model range today encompasses mechanical engineering and peripherals from the areas of spark erosion (EDM line), high-speed cutting (HSC line) and precision milling using linear direct drives (HSC-MP line). This portfolio is supplemented with networked turnkey solutions comprising milling and eroding machines as well as adequate automation and comprehensive software concepts according to the specifications of Industry 4.0. Our philosophy across the board: Progress through innovation. In-house developments which are meanwhile considered milestones in the entire industry testify to the fact that we are on the right track.
In­no­va­tions for global play­ers
exeron is a specialist and high-end machine tools manufacturer when it comes to milling and erosion technology in manufacturing. Big players like Bosch (parts for diesel injection) and GE (parts production for gas turbines) share this view. For individual, high-quality problem solutions, world-class companies rely on our know-how.
Innovation – custom – made for you
Application support and high-performance service play an important role for us. This is why we offer our partners comprehensive application expertise as well as extensive services in the areas of maintenance, spare parts, training and application technology. exeron will find an answer to your milling and erosion issues, too. Quick, individual, competent. In close collaboration with you. With the production, application and training centre at our headquarters in Oberndorf and the service base in Wolfratshausen, we are always within easy reach. Anytime. Challenge us.
Company History
1966
Foundation of the third-party erosion company Herbert
Walter GmbH, development work for AEG-Elotherm.
1978
First independent product – vertical erosion machine HW 100.
1981
Development of the first CNC 4-axes eroding machine.
Type series 200.
1982
The first DE 10C with CNC control incl. automation, C-axis and
6-fold tool changer.
1985
Introduction of the portal eroding centre exeron 304E at
EMO Hannover. Today still known as a worldwide trendsetter.
1992
Founding of DIGMA GmbH. Goal: digitalisation machine for the mould and tool production.
1995
mafell Maschinenfabrik Oberndorf (premium manufacturer in professional wood processing machines)
takes over Herbert Walter GmbH as a 100 % shareholder. Rebranding into Walter-exeron GmbH.
1997
First wire eroding machine D603 made in Germany at the EMO Hannover. Expansion by adding the large portal eroding centre exeron 306K.
1998
Walter-exeron GmbH obtains all rights to the Multiform Erodiertechnik GmbH (formerly Deckel Erodiertechnik). Incorporation into the newly established exeron-Multiform GmbH as a full subsidiary company.
1999
Walter-exeron and exeron-Multiform merge and become exeron GmbH; headquarters: Fluorn-Winzeln. The subsidiary Wolfratshausen remains the service and distribution centre.
2005
exeron takes over the brand DIGMA from the Chiron-Werke Tuttlingen. Supplementation of the CNC vertical erosion centres manufactured until now with a completely new type series of HSC machining centres.
2008
New factory in Oberndorf. 30 years of eroding machines and 3 years of HSC machines provided by exeron. Delivery of the first HSC machine HSC 600 entirely developed by exeron, as a 3- and 5-axis machine.
2013
35 years of erosion machines by exeron.
Presentation of the new developed HSC MP7.
This machine set a new benchmark for Micro Precision Work.
Company address
EXERON GMBH
Beffendorfer Straße 6
78727 Oberndorf
Germany
Contacts