C-Frame Mechanical Presses with

Nominal Force up to 3150 kN (315 tons)
Speed up to 120 rpm
Stroke up to 250 mm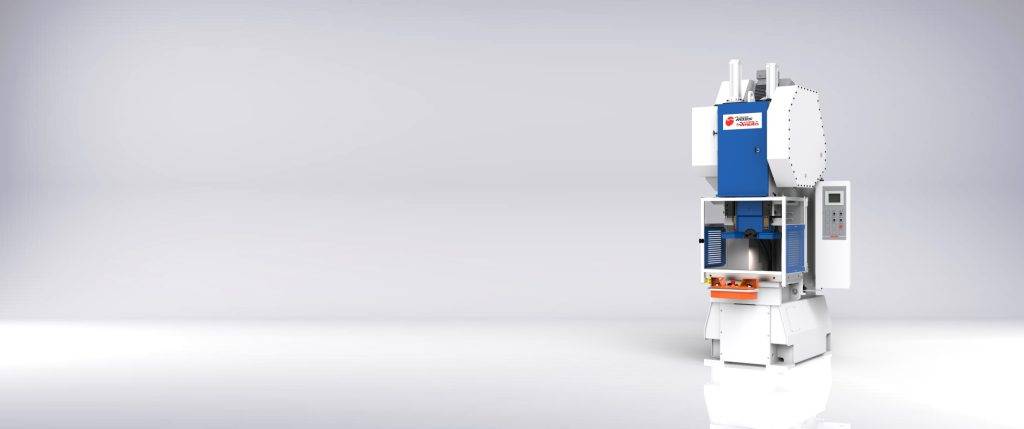 C-frame mechanical presses are specifically used for blanking and for the manual single-stroke or automatic cycle stamping of small parts. The current range includes flying and flag presses from 63 to 315 tons. The 63-ton is the smallest of the range, with the slide running on 4 guides. From 160-ton onwards, the slide moves on 6 guides.
Quality as Standard
C-frame mechanical presses are produced in series. This allows to optimize not only the production process but also the quality controls thus obtaining a highly reliable product.
A wealth of Accessories provided
C-frame mechanical presses come already complete with a large number of accessories.
Easy Maintenance
C-frame mechanical presses are designed to have a centralized management of the control elements, with clear and detailed instructions that facilitate the maintenance.
Quick Die Changing
It is possible to integrate into our whole range of C-frame mechanical presses:
Lifting rails on the table
Movable brackets
Automatic die clampers
Technical data
Tonnage
ton
63
63
100
100
120
160
200
250
315
Model name
Unit
63R4
63R4HS
100R4
100R4HS
120R6
160R6
200R6
250R6
315R6
Nominal Force
kN
630
630
1000
1000
1200
1600
2000
2500
3150
Nominal Speed
rpm
74
106
63
3500
9000
14000
16000
23000
24050
Energy at nominal speed
J
2100
1000
5400
7,5
15
18,5
18,5
22
22
Motor power + inverter
kW
4 4 7,5
4
7,5
88
60
54
47
43
41
Variable speed
rpm
45-104
65-150
35-88
40-120
36-82
30-78
27-62
27÷60
20÷60
Adjustable stroke
mm
9-120
9-120
10-140
10-140
10-140
13-180
16-220
18÷250
18÷250
Slide adjustment
mm
80
80
100
100
100
115
135
150
150
Protrusion at centre
mm
275
275
330
330
335
350
390
445
500
Max distance 1st table-slide
at B.D.C. (*)
mm
310
310
370
370
390
415
520
480
530
Passage between the columns
mm
310
310
350
350
380
540
580
660
680
Table and 2nd table dimensions
mm
750×750
750×750
950×660
950X660
1020X660
1200X720
1300X810
1400X880
1500X1000
Table and 2nd table thickness
mm
65/65
65/65
70/70
70/70
80/80
90/90
100/100
115/115
130/130
Table discharge hole
mm
165
165
165
165
165
200
200
200
200
Slide dimensions
mm
500×350
500×350
570×390
570×390
660×470
900×610
1000×625
1100×720
1200×800
Slide tang hole diameter
mm
50
50
50
50
50
65
65
65
65
Approximate weight
kg
4380
4380
6030
6030
7800
14500
18200
23900
28000
For all inquiries and more info about our machines please contact us by:
Phone: +39 0445 805 444
e-mail: info@omera.com