Straight Side Mechanical Presses with
Nominal force up to 20000 kN (2000 tons)
Speed up to 140 rpm
Stroke up to 800 mm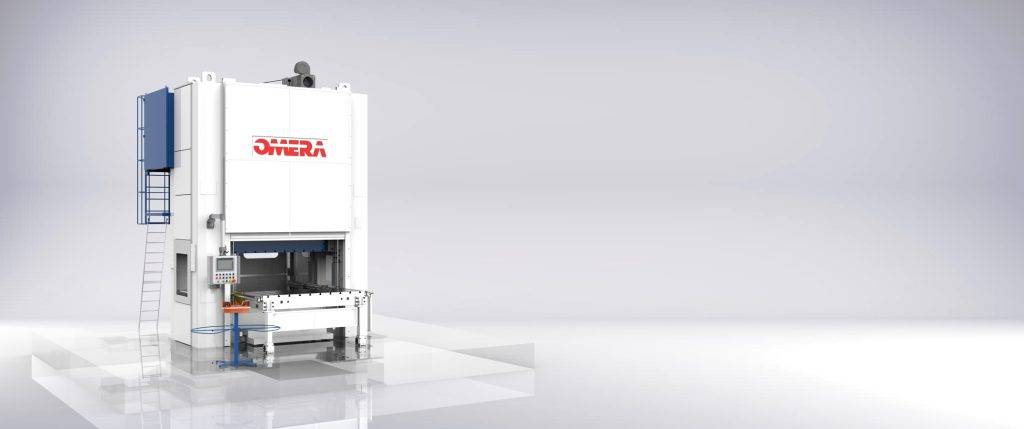 Composite and monolithic mechanical presses are characterised by a high frame stiffness, tested using the Finite Element Method (FEM), and by the precision of the slide guidance system. OMERA range of products provides for single or double connecting rod mechanical presses, with fixed or variable stroke and automatic stroke adjustment. According to the applications and to the pieces to be produced, OMERA develops solutions with kinematics:
Eccentric
Soft blanking
Link drive
Servo drive
Mechanical presses frame stiffness
The press frame and the slide guide are optimized through the Finite Element Method (FEM).
Slide guiding
Roller guides for a high stiffness and a precise guidance of the slide. OMERA roller guides are designed to allow higher stiffness and an improved load distribution.
Smart Energy Management (SEM)
A Smart Energy Management for the main motors allows energy to be stored in the flywheel while braking, avoiding energy exchanges during the cycle. The SEM improves efficiency, allows motor and drive downsizing and minimizes current peaks.
Quick dye changing
Available on our whole range of mechanical presses:
Lifting rails on the table
Movable brackets
Automatic die clampers
Moving table/bolster
OMERA moving bolster is available on our whole range of monolithic and composite mechanical presses for a more precise die adjustment.
T-track and double moving bolster
T- track and Double moving bolster by OMERA are used to change the die respectively for large presses and presses lines solutions
Straight side monolithic mechanical presses with single connecting rod
Technical data
Model
OPM
120-A
OPM
160-A
OPM
160-SB
OPM
200-A
OPM
200-SB
OPM
250-A
OPM
250-SB
OPM
315-A
OPM
315-SB
OPM
400
Nominale force
kN
1200
1600
2000
2000
2000
2500
2500
3150
2500
4000
Working height at nominal force
mm
5
6,35
6,35
6,35
6,35
6,35
6,35
6,35
6,35
6,35
Working stroke
mm
17 – 144
16 – 220
205
16 – 220
205
16 – 220
205
16 – 220
205
300
Slide adjustment
mm
100
135
150
135
150
135
150
150
150
200
Table dimensions /
Housing lateral opening
1000×800
mm
x
x
1200×1000
mm
x
x
x
x
x
x
x
x
x
x
1400×1100
mm
x
x
x
x
x
x
x
x
x
Speed
rpm
30
25
25
28
25
28
25
20
25
15
Adjustable strokes per minute
spm
100
100
75
82
75
82
75
60
75
45
Straight side monolithic mechanical presses with double connecting rod
Technical data
Model
OPM
160
OPM
160-SB
OPM
200
OPM
200-SB
OPM
250
OPM
250-SB
OPM
315
OPM
315- SB
OPM 400
OPM
400-SB
OPM
500
OPM
500-SB
Nominale force
kN
1600
1600
2000
2000
2500
2500
3150
3150
4000
4000
5000
5000
Working height
at nominal force
mm
5 – 6,35
6,35
5 – 6,35
6,35
6,35
6,35
6,35
6,35
6,35 – 12,7
6,35
6,35 – 12,7
6,35
Fixed Working stroke*
mm
*200
200
*200
200
*200
200
*250
250
*400
300
*400
300
Slide adjustment
mm
150
150
150
150
150
150
150
150
200
200
200
200
Table dimensions
/slide
1600×1200
mm
x
2000×1250
mm
x
x
x
x
x
x
x
x
2500×1250
mm
x
x
x
x
x
x
x
2500×1500
mm
x
x
x
2800×1250
mm
x
x
x
2800×1400
mm
x
x
speed
rpm
20
20
20
20
20
20
20
20
20 – 15
20
15 – 10
15
Adjustable strokes per minute
spm
60
60
60
60
60
60
60
60
60 – 45
60
45 – 30
45
Straight side monolithic composite mechanical presses with two or four connecting rods
| | | | | | | |
| --- | --- | --- | --- | --- | --- | --- |
| Technical data | Modello / Model | OPM 500* | OPM 630* | OPM 800* | OPM 1000* | OPM 1250* |
| Nominale Force | kN | 5000 | 6300 | 8000 | 1000 | 1250 |
| Working height at nominal force | mm | 12,7 – 18 | 12,7 – 18 | 12,7 – 18 | 12,7 – 18 | 12,7 – 20 |
| Max. Fixed Working stroke | mm | 400 | 400 | 400 | 400 | 400 |
| Slide adjustment | mm | 300 | 300 | 300 | 300 | 300 |
| Table dimensions / slide | | | | | | |
| 3000×1250 | mm | x | | | | |
| 3200×1400 | mm | x | x | | | |
| 3750×1500 | mm | | x | x | x | x |
| 4000×1500 | mm | | x | x | x | x |
| 4500×1500 | mm | | | x | x | x |
| 4800×1750 | mm | | | | x | x |
| speed | rpm | 10 – 15 | 10 – 15 | 10 – 15 | 10 – 15 | 10 – 15 |
| Adjustable strokes per minute | spm | 30 – 45 | 30 – 45 | 30 – 45 | 30 – 45 | 30 – 45 |
For all inquiries and more info about our machines please contact us by:
Phone: +39 0445 805 444
e-mail: info@omera.com