X-axis travel of Columns: 10 000 – 50 000 mm
Y-axis travel of Headstock: 4200/5200/6200 mm
Z-axis travel of Ram: 1600 mm

Gantry machine designed for machining workpieces on one set-up.
Multifunctional CNC machine – drilling, milling, turning, grinding and laser-hardening.
Ram stroke 1600 mm.
Machine equipped with floor plates.
Great variety of optional accessories and milling heads.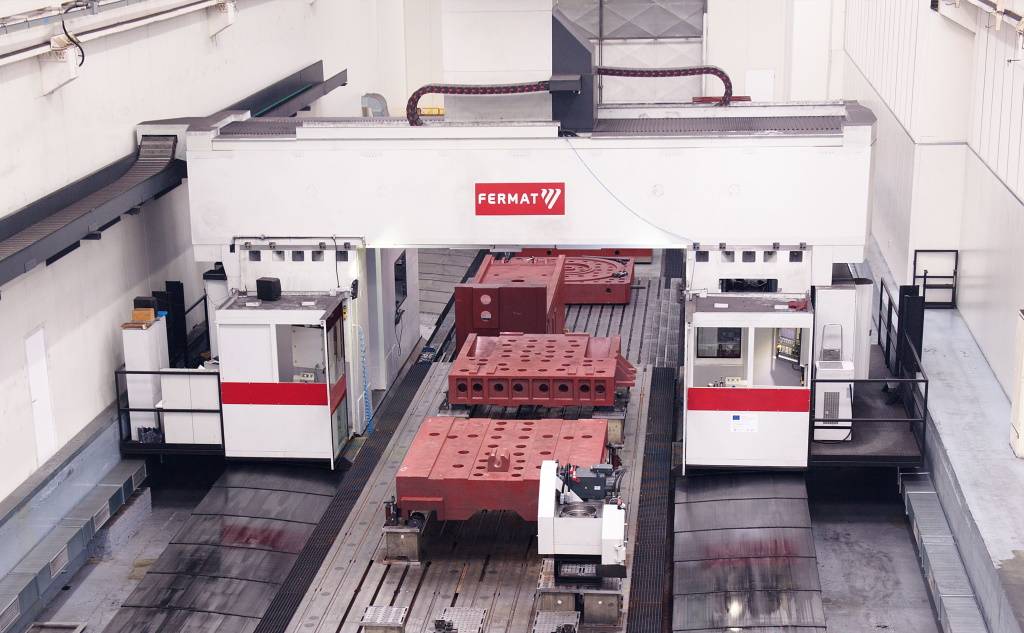 | | | |
| --- | --- | --- |
| Fermat Gantry | units | |
| Spindle diameter | mm | 160 |
| Spindle taper | | SK 50 (ISO 50)/BT50/CAT 50/BIG+ |
| Spindle speed (max.) | rpm | 2500 |
| Max. Power Heidenhain or SIEMENS CNC (S1/S6) | kW | 74/91 |
| Max. Torque Heidenhain or SIEMENS CNC (S1/S6) | Nm | 3 349/4 120 |
| X-axis travel of Columns | mm | 10 000 – 50 000 |
| Y-axis travel of Headstock | mm | 4200/5200/6200 |
| Z-axis travel of Ram | mm | 1600 |
| W-axis Spindle Travel | mm | 1000 |
| Rapid Feed X, Y | mm/min. | 40 000, 40 000 |
| Rapid Feed Z | mm/min. | 12 000 |
Many options like:
Automatic tool change up to 189 tools
Wide range of milling heads
rotary table options
For all inquiries and more info about our machines please contact us by:
Phone: +420 720 544 430
e-mail: info@fermatmachinery.com